The "typical" student market 18-21-year-old native Brits moving from another town, is not the only student demographic type. Most of these people will be familiar with local customs and will (generally) have a typical profile of expectations from a property. But international students differ slightly. Whether they are coming from another EU country or outside of it, they will tend to look for slightly different things.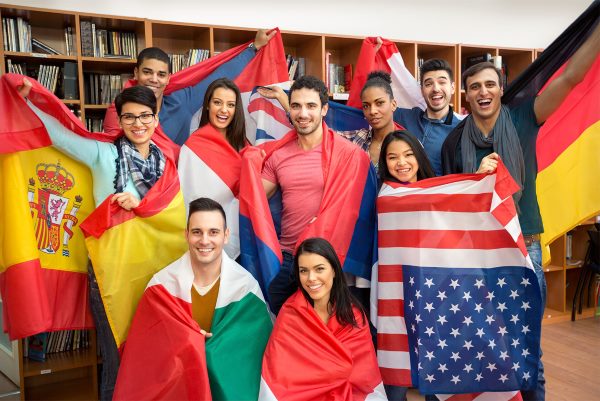 International Students Prefer HMOs
First things first – it seems international students are increasingly preferring HMOs such as yours. Many reasons are suspected, but the most likely is that they wish to settle in and make new friends quickly. A flat and halls make that particularly difficult although for different reasons. It's difficult enough being in a new town or city where you don't know anyone but being in a foreign country is that much more daunting no matter how much you want it. That's why it's important for property owners to appeal to international students and provide a welcoming environment.
Inviting Communal Space
While every student goes to university to study, the social aspect is important – getting involved in societies, engaging with the local community and making new friends. When we keep in mind that international students seek to make friends quickly, it's important that your HMO has accessible and welcoming communal space with plenty of seating, attractive décor and the types of household goods that they might require – a radio and television for example.
Don't neglect the garden. Although your student tenants may not be too inclined to use it during September and October (unless the weather is particularly mild as it has been for a couple of recent autumns), they will certainly require it during the spring and summer. That may be a long way off, but international students will consider it as a necessary communal space.
Pre-Installed Internet Connection
While all students want as easy a transition to moving as possible, for International students setting up accounts for utilities can be particularly stressful. This is especially true for the internet. Keep a connected internet account in your name and build the cost into your charges such as rent. They will appreciate the ease with which they can get online and contact family wherever they are in the world. This takes away one potential stress of moving to a foreign country.
Small Electricals
It's common for property owners to leave buying small electricals such as kettles and toasters. But this is not the sort of thing that international students can bring with them. The prospect of not having them in the property already may be a little frustrating; if you don't have them and tend to leave that sort of thing to students as they move in, you could be missing out on some potentially great international students. Consider providing as much as you can.