Listing a property on countless different websites can take time, but taking short-cuts is a strategy that will affect your ability to let your room or property.

We see a lot of landlords list their rooms or properties either without a picture or with small, grainy, dark and low quality pictures, so we thought we'd give our landlords some tips and advice to help you get the most out of your website listings.
"A pictures tells a thousand words and if you want
to let your property a decent picture is critical!"
Indeed a quick straw-poll we did of students supported this, with all those we spoke to telling us that what the accommodation looks like is the most important thing they consider with price coming a close second.
We see a lot of landlords list their rooms or properties either without a picture or with very poor quality pictures. This really does decrease your chances of receiving enquiries so it makes sense to invest a bit of time into getting some decent pictures.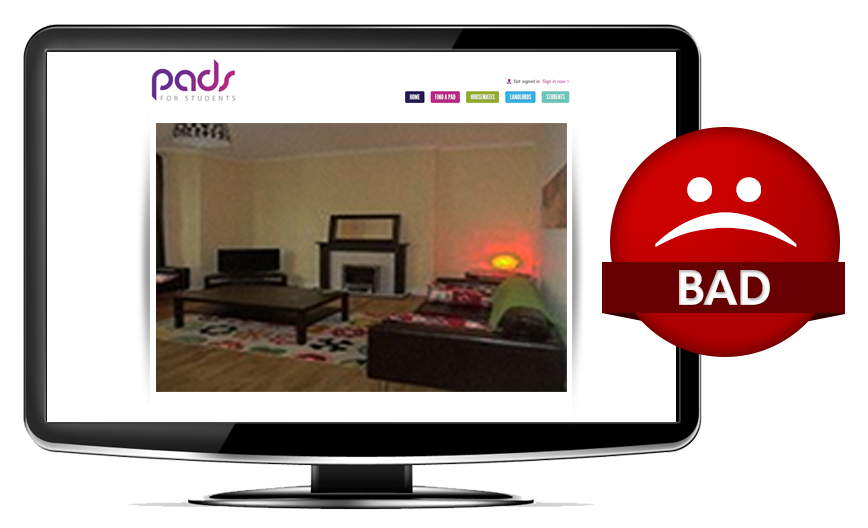 "Small, dark, blurry or grainy pictures
won't help you move your property!"
Good pictures will help you let your student property quickly and a straw-poll we did of students supported this, with all those we spoke to telling us that the looks of accommodation is the first they consider when choosing where to live, with price coming a close second.
Important considerations when listing your student properties
Properties with good pictures are often chosen to feature on the Pads for Student homepage, this extra coverage is a great reason to use good pictures!
Pictures grab people's attention and hold it. A good product picture will make your property stand out from all of the others, ultimately translating into more enquiries and you'll fill your room or property more quickly.
Don't just upload a picture of the front of the house or the garden. Your tenant(s) will be living inside the property so it's important you take a decent picture internally. We'd suggest an outside picture, perhaps showing a garden or car parking, a bedroom shot and at the very least, a picture of the lounge, kitchen or bathroom; ideally all three!
Pads for Students carry out a lot of social media activities and we select properties based on their visual appeal as we know our users want attractive properties – if you upload good quality images you are much more likely to benefit from the extra social media marketing activities that we carry out.
40% of people will respond better to visual information than to text – properties advertised without a picture don't move as quickly as properties with a picture and that's a fact!
Remember with images, bigger is always better. A large image can easily be shrunk or scaled down, but a small picture will need to be stretched up and that is never a good thing as that leads to distortion and a very noticeable loss of quality.
If a picture is missing a student will immediately ask 'what's wrong with this place?' or worse, not even give it another thought! A lack of picture will start alarm bells ringing making it much less likely that you'll receive an enquiry.
Never upload a small, dark or blurry picture – take care with your pictures and a student is more likely to feel you will take care of your property; positive associations are critical, a student or parent needs to trust you before they'll become your tenant!
Of course, having a great description is always worthwhile and is still important but don't put a description ahead of a good photograph.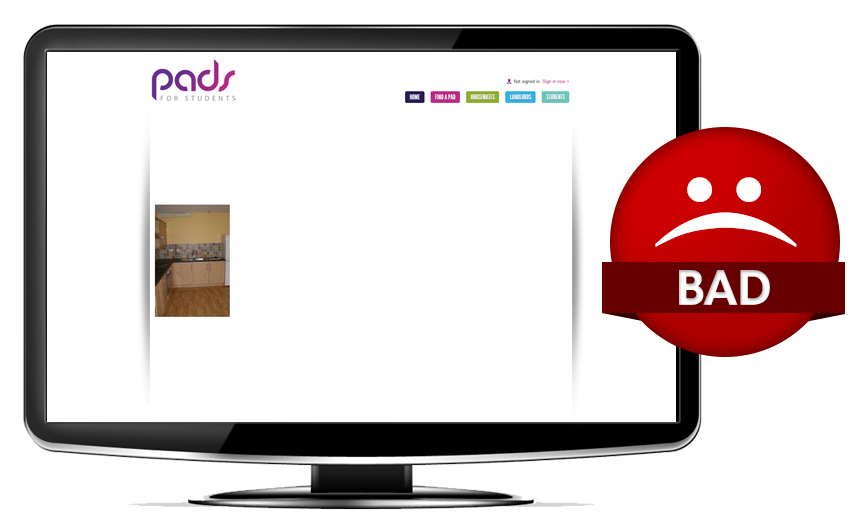 Of course we aren't all lucky enough to be naturally talented photographers and not all of us have a fancy professional grade camera! The cameras on most smart-phones these days are well equipped for the job, but make sure you are taking pictures that will sell your room or property effectively, dark, grainy snaps just won't cut it with today's savvy student tenants.
Photography tips for landlords
Even on a bright sunny day, indoor shots can look dark, so open all blinds and curtains and turn internal lights on before you take your pictures.
Take multiple pictures of each room; when you have a few to choose from you are less likely to have to resort to dark or out of focus shots.
Bump up your resolution! This is especially important if you are using a older phone or perhaps a Blackberry (which tend to have poor cameras). You want to make sure you are taking a picture at the maximum resolution and if you have quality settings, bump them up to 'fine' or 'high'.
Staging is good. You want to present your property in the most flattering way possible so have a good clean and a tidy up ahead of taking your pictures. If the property is currently occupied, ask your tenants to clean and tidy their rooms. There is nothing more off putting than seeing a messy kitchen or dirty bathroom – yuck!
Turn off your time stamp! Pictures overlaid with a time/date stamp look instantly less appealing so make sure you change your phone or camera settings so pictures don't get visibly time stamped or geo tagged.
Pay attention to upload guidelines and make sure you picture meets minimum and recommended size criteria. Take a look at your live listing with a critical eye – ask yourself honestly, does your listing look attractive and stand out from the rest?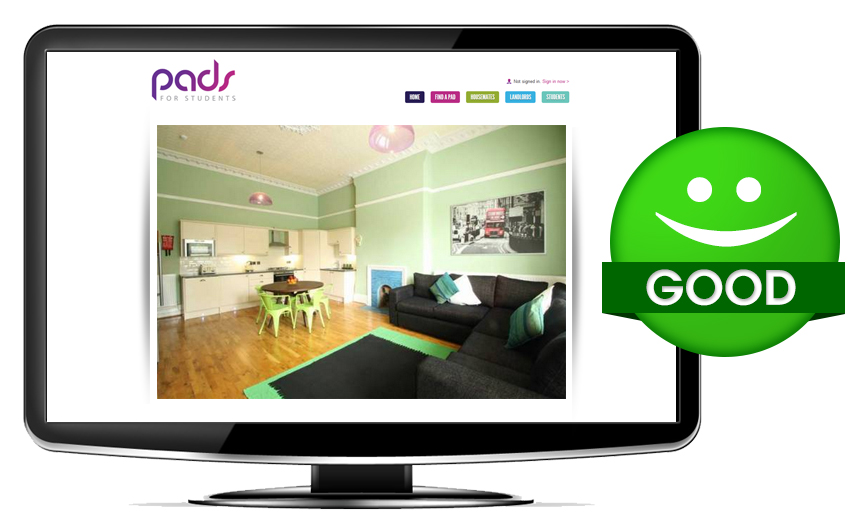 For a limited time, landlords can advertise their properties for free with us here www.padsforstudents.co.uk so make sure you don't miss this great free property advertising offer while it lasts!